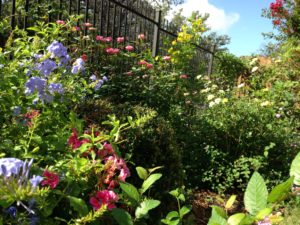 I'm thinking I'm not alone in this. This tendency…no, pull to avoid things that make me uncomfortable. The avoidance du jour is my garden that I love and the reason that I am avoiding it today (this week..the entirety of April) is because it is a weedy mess. When I see the weeds it brings up feelings of disappointment and regret and my internal critic begins barking "Why on earth did you let it get to be this bad? Lazy thing, you should've begun in early March! It's going to be so hard now…"
I usually love being out in the flowerbeds, but this morning I find myself shutting the door and leaving the weeds to grow another day.
This is not a situation that is going to get better with neglect. I know better…we all do…so then why is the pull to avoid so strong?  
As humans we have drives to pursue the pleasurable and avoid the painful. And what seems to be doing me (and my beautiful rose bushes) in…and what has many of us avoiding the weedy patches in our lives, in large part, is the barking internal critic. The critic that in my case has transformed something inherently pleasurable into a Sisyphean chore.  And just as the task looms large, the internal critic casts this fairly competent gardener (and mostly conscientious person) as a slovenly good-fer-nothin (that's how my raised-in-the-south-critic talks, by the way).
I wonder in what ways your internal critic might be making your way ahead loom large, while making you feel small today? And I wonder where you too are pulled toward avoiding?
Avoidance is such a seductive call and yet in our depth we know that when it comes to the weedy hard patches, in our garden or in our lives, nothing really ever gets better by avoiding. With avoidance, the weeds grow and strangle out our space and vibrancy and life's incredible beauty.
So this morning I pause to breathe and feel my disappointment in a world with weeds and busy schedules and tendencies to avoid hard stuff. I open my eyes to look and listen for beauty right here in the weedy-mess. I remind myself of my love for my flowers and my enjoyment in tending them. I name the lies in my critic's rants.  And I decide to move toward what I desire and away from my impulse to avoid.
Now as I ready my garden hat and boots and prepare for a small dose of weeding…
Mary Oliver
The Gardener
Have I lived enough?
Have I loved enough?
Have I considered right action enough? 
Have I come to any conclusions?
Have I experienced happiness with sufficient gratitude?
Have I endured loneliness with grace?

I say this, or perhaps I'm just thinking it.
Actually I probably think too much.

Then I step out into the garden,
where the gardener, who is said to be a simple man, 
is tending his children, the roses.  
-Mary Oliver


Today, may you breathe more deeply, laugh more often and feel more at home in your own life…